Support your learning and Professional Hours Requirement
In collaboration with Mobile Health, we have recorded a number of renal education videos.
Watch the recorded webinar below from start to finish.
To claim your hours, click on the 'claim a certificate' button. This will send you a quick quiz about the webinar, once answered a certificate will be generated for you.
Mar 14, 2023
Dr Andy Salmon, Kidney Health New Zealand Medical Advisor
Updates on CKD detection, management & guidelines covering World Kidney Day 2023 key themes:
Supporting the vulnerable

CKD detection in high-risk groups
CKD management to slow progression
High-risk CKD – when to refer to renal services

Preparing for the unexpected

Acute Kidney Injury

CKD complications
Sep 13, 2022
Dr Jasmine Tan, Endocrinologist and Nephrologist, Auckland and Counties DHBs, Te Whatu Ora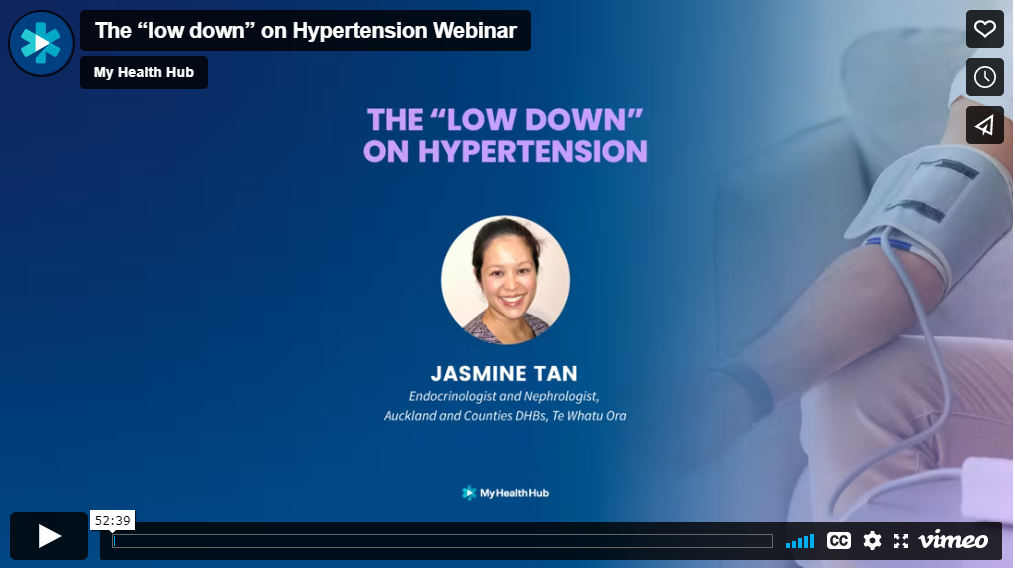 What does the new hypertension guidelines mean for your patients
Hypertension management in special populations such as: patients with diabetes; patients with chronic kidney disease, and elderly patients
Resistant hypertension and screening for secondary causes
Non-pharmacological therapies for reducing blood pressure.
Detecting and managing CKD and AKI in general practice (

1 hour webinar

)
March 29, 2022
Erica Fairbank & Becs Hayston, Kidney Health New Zealand Renal Educators
Risk factors for CKD and AKI
The common causes of renal failure,
Understanding the recommendations for the detection and staging of CKD
Case study CKD
Case study AKI
Understanding when to use a referral
Supporting chronic kidney disease management in primary care (54 minute webinar)
March 21, 2022
Dr Andy Salmon, Kidney Health New Zealand Medical Advisor
Updated definitions of CKD
Identifying high-risk CKD
Strategies to slow progression of CKD
When and why to refer CKD cases to hospital renal service
Acute Kidney Injury in primary care
New developments in CKD for the primary care team
Nutrition for those with Chronic Kidney Disease (1 hour webinar)
September 22, 2021
Jennifer Robb, Renal Dietician for Nutrition and Dietetics, Auckland District Health Board
Chronic Kidney disease – what's the latest evidence and what does this mean for patients?
Protein foods – what type and amount for people with CKD
What to say when patients ask about foods containing potassium and phosphate
Micronutrients – a summary
Preventing malnutrition in people with kidney disease
Popular diets and kidney disease
August 6, 2020
Carmel Gregan-Ford, past Kidney Health New Zealand Renal Educator
Nine major risk factors
Detection and staging of CKD
Testing and management as part of long-term condition.