Nutrition and Recipes
Nutrition and kidney disease - Information on what to eat to support your kidneys
Eating well when you have kidney disease is very important to help you stay as healthy and strong as possible. Including the right kinds and amounts of foods each day recommended for healthy eating can help your kidneys to work more easily and keep you well for longer. We recommend consuming a diet rich in vegetables, fruits, wholegrain cereals, lean meats, poultry, fish, eggs, nuts and seeds, legumes and beans and low-fat dairy products. It's also important that you limit your salt, sugar, and fat intake.
Sometimes having kidney disease can make you feel unwell. Your appetite may not be so good, and food may taste different. This is because waste products produced from the foods you eat build up in the blood instead of being removed by the kidneys. The need to make changes to your diet depends on how well your kidneys are working. What is right for others may not be right for you
More Information - Video, Download and Podcast
Follow the link in red to watch - a video from a renal dietitan about Polycystic Kidneys.
Click the link in red to download a PDF which includes - more information about renal diet CKD and nutrition
Click the link in red to a podcast by Fuchsia Goldsmith about - diet and kidney health.
Cookbooks that cater to those with kidney disease
Introducing the latest recipe book for kidney patients. A cookbook has been produced by the Christchurch Kidney Society and the Auckland Kidney Society It is hoped that within this collection of recipes you will find some that fit your dietary requirements and tickle your taste-buds too. These book also includes some general pointers to help you with your choices from the renal dietician at Christchurch Hospital and Whangerei Hospital The cost is between $10-00-$15:00 including postage.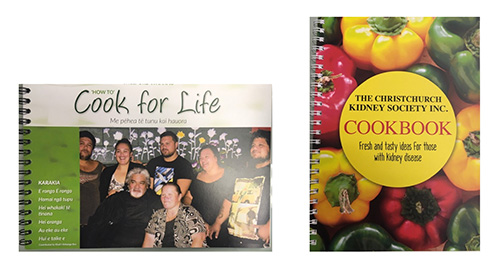 Click the link in red to download a PDF file - example of a recipe.
If you would like to order a book you can contact:
Christchurch Kidney Society 03 3410906 or email christchurch.kidney.society@gmail.com or www.christchurchkidneysociety.co.nz
Or Auckland Kidney Society 0800 235711 or kidneysociety@adks.co.nz